MIOM Photax V
Specification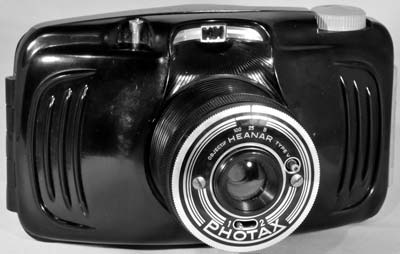 MIOM Photax V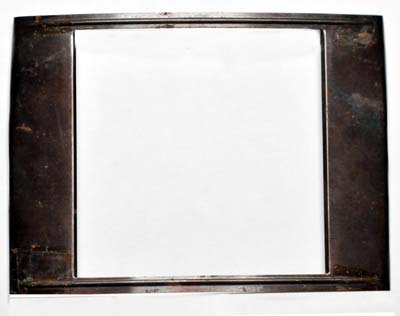 MIOM Photax V Mask
| | | |
| --- | --- | --- |
| Manufacturer | : | M.I.O.M. |
| Produced | : | 1956 |
| Classification | : | Medium Format |
| Body Type | : | Extending Helix |
| Construction | : | Bakelite |
| Film Type | : | 620 |
| Film Width | : | 62mm |
| ImageSize | : | 6x9cm or 6x6cm |
| No. of Images | : | 8/12 |
| Lens Type | : | Angénieux Heanar meniscus |
| Focus Type | : | Fixed |
| Focal Length | : | 85mm |
| Focal Range | : | 2.75m - inf. |
| Aperture Type | : | Multihole |
| Aperture | : | f/14, f/22 |
| Shutter Type | : | Guillotine type |
| Shutter Speeds | : | T, 1/25, 1/100 sec |
| Flash | : | Synchronised |
| Size Open (w x h x d) | : | 168 x 100 x 98 mm |
| Size Closed (w x h x d) | : | 168 x 100 x 70 mm |
| Weight | : | 465g |
Art Deco Credentials




Noteworthy: Worth giving special attention
Body shape designed in the main Art Deco period.
Polished Bakelite
Curvilinear body design
Streamline Moderne characteristics
Concentric circle markings on lens plate
Triple lined curved camera grips
Splayed thin lines from viewfinder window
Description
This is an extremely attractive camera displaying Streamline Moderne characteristics bringing together functionality and aesthetics. It is constructed from shiney black Bakelite with chrome highlights. It has grey plastic film advance knob and grey plastic film door latch.
This is a simple dual-format camera for 620 size film. It is capable of taking 6 x 9 cm photographs, or 6 x 6 cm photographs with a mask in place. The mask is a thin metal plate which is clipped over the frame window. Shutter speed settings are 1/25, 1/100 second, and bulb. The shutter is synchronized for flash. It has an Angénieux Heanar meniscus lens with two aperture settings - numbered 1(f/14) and 2(f/22). Angénieux is a French optical company founded in 1936 and still produce quality lenses today.
The lens and shutter are mounted on an extending helix which is screwed out into the taking position. The shutter release in on the body, unlike previous photax models where the shutter release was on the extending part near the lens. When the camera is not in use, the helix can be turned back into the body making this a compact camera for carrying.
The simple viewfinder is very small and difficult to use. It covers the total field of view for 6x9cm frames, with markers to show the limits of the frame when 6x6cm is used. Exposures are counted using the red window system. There are two red windows, one for 6x9cm frame size and the other for 6x6cm frame size. Eight frames can be taken in 6x9cm mode and twelve in 6x6cm mode.
How to Use
This camera takes 620 film which is still available from selected photographic outlets. Although the actual film is the same as 120 film, the spools are different. The 620 spools are slightly shorter and have a smaller diameter. Do not use 120 film in this camera because it will jam and may snap. It is easy to re-spool some 120 film onto 620 spools in a darkroom or changing bag. Don't forget to cover the red windows with black electrical tape except when advancing the film in low light. Modern film is sensitive to red light.
Shutter speeds are 1/25s and 1/100s. The aperture values available are f/14 - f/22.
If you don't want to bother with an exposure meter, follow the guide shown. It is based on the 'Sunny 16' rule. Film is so forgiving and will produce acceptable results even when overexposed by 2 or 3 stops or underexposed by 1 stop.
Remember that the exposure guide in the camera user manual may not be helpful as it is based on the use of old film with a low ISO value.
The tables assume that the sun is at least 30 degrees above the horizon - that's 10am - 5pm on a summer's day (May-August) in the UK.
If you are not sure about the light level, err on the side of overexposure - i.e. assume the smaller f number.
Where there is a choice, a larger f number will give a larger depth of field.
For the slower speeds, you may need a tripod to stop blur through shake.
Using ISO 100/125
Key: Green - Good exposure; Amber - acceptable exposure; Red - unacceptable exposure. Number of stops over or under shown.
Weather Conditions
Shadow Detail
Shutter Speed (s)
1/25
1/100
Sunny
Snow/Sand
Dark
with sharp edges
f/22
+2 over

f/22

Sunny
Distinct
f/22
+1 over

f/14

Slight Overcast
Soft around edges
f/14
+1 over
f/14
-1 under
Overcast
Barely visible

f/14

f/14
-2 under
Heavy Overcast
None
f/14
-1 under
f/14
-3 under
Open Shade
/Sunset
None
f/14
-2 under
f/14
-4 under
Photographs taken with this Camera
Unfortunately, I set up this camera for 6x9 images but used the 6x6 red window for frame advance. The result was overlapping frames. Fortunately, I was able to extract some useable photos by cropping the negative.
Kodak Portra 160 film,. Developed in Tetenal

Overlapped frames due to using wrong red window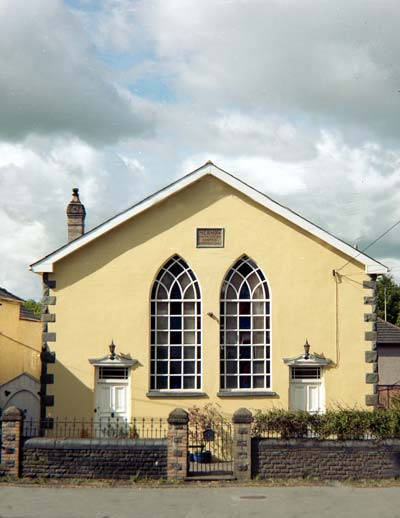 Hermon Calvinistic Chapel, Tongwynlais, Wales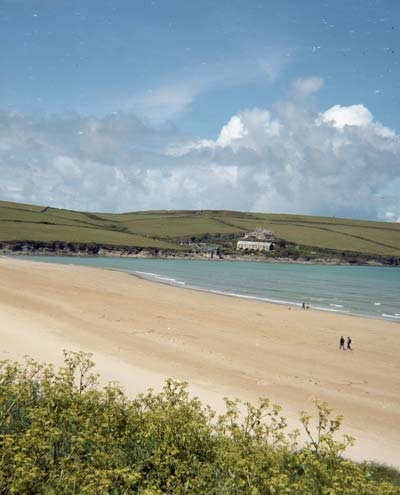 Harbour Cove, Padstow, Cornwall, UK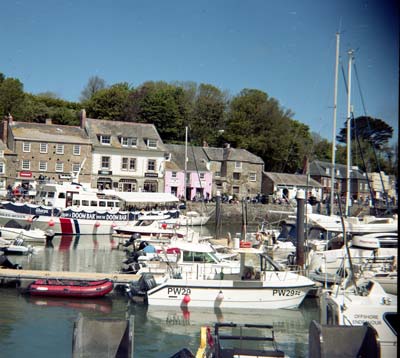 Padstow Harbour, Cornwall, UK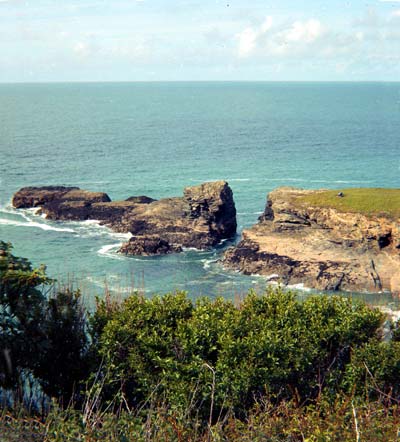 Port Gaverne Headland, Cornwall, UK