Univex Iris Deluxe
Specification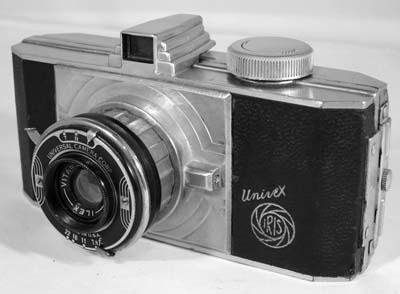 Univex Iris Deluxe
| | | |
| --- | --- | --- |
| Manufacturer | : | Univex |
| Produced | : | 1938 |
| Classification | : | Miniature |
| Body Type | : | Extending Body |
| Construction | : | Cast Alloy |
| Film Type | : | #00 |
| Film Width | : | 1¼ |
| ImageSize | : | 1⅛ x 1½ in |
| No. of Images | : | 6 |
| Lens Type | : | Vitar Ilex |
| Focal Length | : | 50mm |
| Focus Type | : | Fixed |
| Focal Range | : | 2m - inf. |
| Aperture Type | : | Iris |
| Aperture | : | f/7.9 - f/22 |
| Shutter Type | : | Leaf |
| Shutter Speeds | : | T, B, I(1/25 sec) |
| Size Closed (w x h x d) | : | 130 x 66 x 55 mm |
| Size Open (w x h x d) | : | 130 x 66 x 65 mm |
| Weight | : | 515g |
Art Deco Credentials





Significant: Pronounced and self evident
Produced during the main Art Deco period.
Cast stepped feature around viewfinder.
Geometric detailing on front plate.
Geometric detailing on front body plate
Chromium finish on a zinc-based alloy.
Angular body design.
Ribbed feature on extending lens tube.
Description
The Univex Iris Deluxe (1938) is an up market version of the Iris Standard. It's a fairly heavy camera, cast from a zinc-based alloy with a chromium finish, and covered in black leatherette. It produces six 38mm x 28mm exposures on Univex #00 rollfilm. It was only on the market for one or two months, making it quite scarce and difficult for the collector to obtain.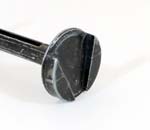 Spool Drive Key
The Iris comes equipped with a telescoping fixed-focus, Ilex Vitar, 50mm f/7.9 - f/22 lens. Shutter speeds are I, B and T with the optional use of the threaded shutter release connector. The reverse Galilean viewfinder is mounted in a stepped casing. This camera requires Univex #00 film which is wound on spools with a special 'V' shaped key for turning. The space beyond the film winder is reserved for storing a spare roll of film. There is a green window on the back to count exposures and a 1/4 inch tripod socket on the bottom.
How to Use
Find the manual here:- Univex Iris manual
The camera takes Univex No.00 film which is only available as expired film. Expired film normally needs to be overexposed by 1 stop/decade for colour film or 1 stop per 2 decades for B&W. As there is a limited adjustment for the exposure, it is unlikely to be successful.
35mm film is too wide for the spools.
You can cut down 120 film and roll it in old #00 backing paper. You will probably have to develop the film yourself. However, if you cut down Ilford XP2 Super, this film is developed using the C41 process which is easier to develop at your local lab.
Looks like this is a 'shelf sitter' for me I'm afraid.