Univex AF-2
Specification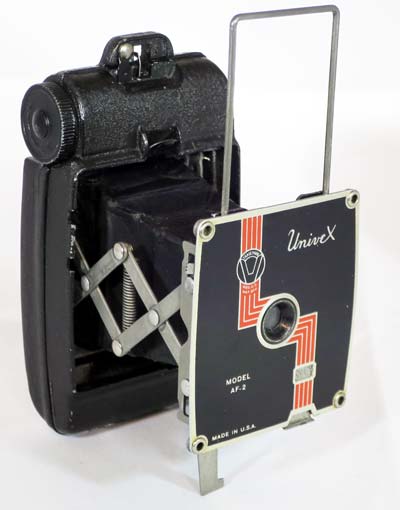 Univex AF-2
Manufacturer
:
Univex
Produced
:
1936
Classification
:
Miniature
Body Type
:
Folding Strut
Construction
:
Metal
Film Type
:
#00
Film Width
:
1¼
ImageSize
:
1⅛ x 1½ in
No. of Images
:
6
Lens Type
:
meniscus
Focal Length
:
60mm
Focus Type
:
Fixed
Focal Range
:
0.5m - inf.
Aperture Type
:
Fixed
Aperture
:
f/20
Shutter Type
:
Leaf
Shutter Speeds
:
T, I*(1/100 sec)
Size Closed (w x h x d)
:
87 x 160 x 35 mm
Size Open (w x h x d)
:
87 x 160 x 134 mm
Weight
:
155g
* - measured on this camera
Art Deco Credentials





Significant: Pronounced and self evident
Produced during the main Art Deco period.
Geometric orange zigzag pattern on front plate.
Metal struts with some chrome rivets.
Curved body design.
Description
The Universal Camera Corporation of New York City, New York was a successful low-priced camera manufacturer during the 1930s and 40s. The Univex AF series of miniature folding cameras were introduced in 1935. This camera is the AF-2 model. It is distinguished by a decorative front plate of orange, black and raised metal detailing.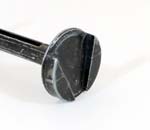 Spool Drive Key
This is so small, it fits easily in the palm of the hand. The body is made of cast metal, the struts and front plate are aluminum. The bellows are made of paper. The AF-2 has a simple, fixed aperture lens. The shutter has settings for instantaneous, marked as 'SNAP', and time exposure. A wire frame viewfinder can be pulled out of the lens board and is used in conjunction with a rectangular hole cast into the top of the body. A red window is used to count exposures. There is no tripod mount.
This camera requires Univex #00 film which is wound on spools with a special 'V' shaped key for turning.
How to Use
Find the manual here.
The camera takes Univex No.00 film which is only available as expired film. Expired film normally needs to be overexposed by 1 stop/decade for colour film or 1 stop per 2 decades for B&W. As there is no way to adjust the exposure, it is unlikely to be successful.
35mm film is too wide for the spools.
You can cut down 120 film but you will probably have to develop the film yourself.
Looks like this is a 'shelf sitter' I'm afraid.