Univex A
Specification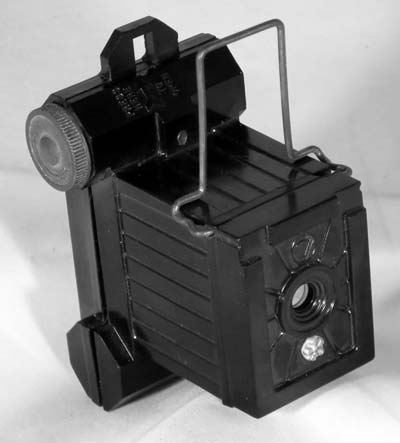 Univex A
Manufacturer
:
Univex
Produced
:
1933
Classification
:
Miniature
Body Type
:
Solid Body
Construction
:
Bakelite
Film Type
:
#00
Film Width
:
1¼
ImageSize
:
1⅛ x 1½ in
No. of Images
:
6
Lens Type
:
meniscus
Focal Length
:
46mm
Focus Type
:
Fixed
Focal Range
:
3 ft - inf.
Aperture Type
:
Fixed
Aperture
:
*f/13
Shutter Type
:
rotary
Shutter Speeds
:
I*(1/100 sec)
Size (w x h x d)
:
47 x 90 x 63 mm
Weight
:
65g
* - measured on this camera
Art Deco Credentials





Significant: Pronounced and self evident
Produced during the main Art Deco period.
Made from black moulded Bakelite.
Sunburst motif moulded into front panel.
Linear pattern moulded on body.
Raised octagonal turrets on film bay.
Stylized flower on screw head at front.
Description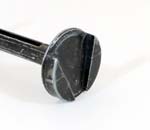 Spool Drive Key
The Univex Model A is a small plastic camera made in New York by Universal. It was introduced in 1933 and sold over three million in three years. The moulded pattern on the body changed over the years but the basic shape remained the same. One of the early ones had the sunburst motif as shown above. Film advance is by red window. It has a wire-frame finder with the rear sight moulded onto the body. It has a simple rotary shutter which is operated on a flip-flop basis - move shutter release down for one shot and up for the next. It is equiped with a 'special Univex synchromatic speed lens' - whatever that is. This camera has a metal winder but the first version had a plastic winder.
This camera requires Univex #00 film which is wound on spools with a special 'V' shaped key for turning.
How to Use
Find the Instruction Sheet here.
The camera takes Univex No.00 film which is only available as expired film. Expired film normally needs to be overexposed by 1 stop/decade for colour film or 1 stop per 2 decades for B&W. As there is no way to adjust the exposure, it is unlikely to be successful.
35mm film is too wide for the spools.
You can cut down 120 film but you will probably have to develop the film yourself.
Photographs taken with this Camera
Kodak Portra 160 film cut down to 30mm. Developed in Tetenal.
The thing to notice about the images produced by this camera is that although the focus isn't too bad at the centre, the edges are really soft.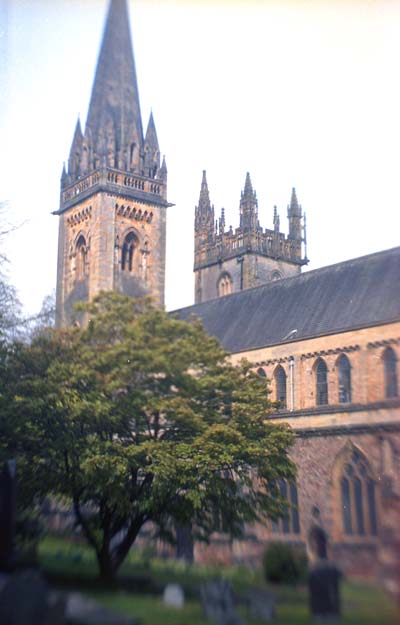 Llandaff Cathedral, Cardiff, Wales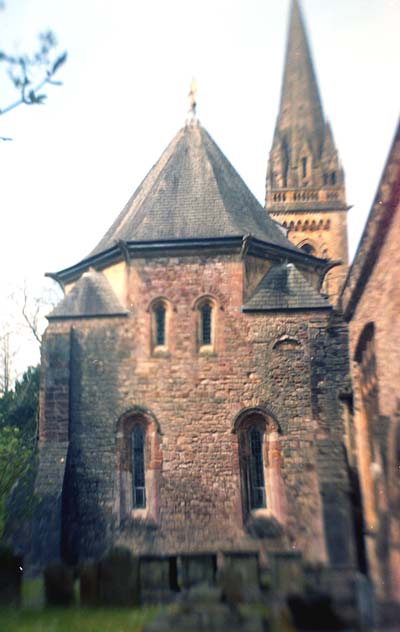 Lady Chapel, Llandaff, Wales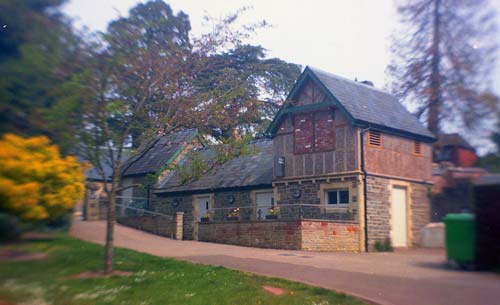 Insole Court Cafe, Cardiff, Wales