Rajar No.6
Specification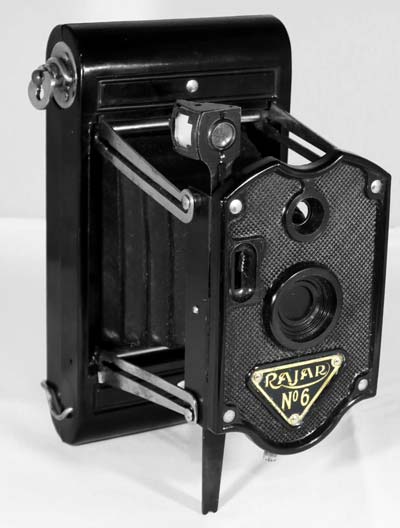 Rajar No.6
Manufacturer
:
Rajar
Produced
:
1929
Classification
:
Medium Format
Body Type
:
Folding Strut
Construction
:
Bakelite
Film Type
:
120 (with adapter)
Film Width
:
62mm
Image Size
:
2¼ x 3¼
No. of Images
:
8
Lens Type
:
Meniscus
Focal Length
:
85mm
Focus Type
:
Fixed
Focal Range
:
6ft - inf.
Aperture Type
:
Fixed
Apertures
:
f/12
Shutter Type
:
Rotary
Shutter Speeds
:
T, I*(1/50s)
Size Open (w x h x d)
:
108 x 165 x 120 mm
Size Closed (w x h x d)
:
108 x 165 x 43 mm
Weight
:
460g
* Measured on this camera
 
Art Deco Credentials






Iconic: Famous, well-known and celebrated
Produced during the main Art Deco period.
Built almost exclusively of Bakelite.
Decorative line mouldings to Bakelite body.
Decorative cross-hatch mouldings to Bakelite lens plate.
Chrome used on struts.
Chrome used on film advance key.
Triangular name plate with chrome Deco lettering
Concentric stepped circles on lens bezel.
Description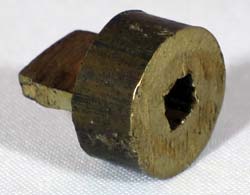 Hand made No.6 to 120 adapter
This camera was the first strut folder to have the body, the back and the lens standard, made of Bakelite. The camera was introduced in 1929. It is a basic camera with meniscus lens and an everset shutter. Instant and time modes are available. Film advance is by a key. It has a reflecting type viewfinder mounted above the lens opening behind a hole in the lens standard. For horizontal exposures, the viewfinder can be swung out so that the finderis positioned over the standard. The shutter release lever is placed below the lens standard and has a flip-flop action. Flip it one way to take a picture and the other to take the next picture.
The camera produced eight 6×9cm exposures on special Rajar No.6 film rolls - hence its name. The square film drive of this camera fits the No.6 film but by using an adaptor, 120 film can be used.
This camera was distributed through premium schemes. For example, Godfrey Phillips who were makers of cigarettes and other tobacco products in the 1930's, offered this camera in exchange for 150 coupons.
How to Use
With the use of an adapter, this camera takes 120 film which is widely available.
The aperture is set at about f/12. The measured speed on this camera was 1/45s when the shutter lever was moved one way and 1/55s when moved the other way. Therefore the average was 1/50s. As the shutter speed is only 1/50s, it is advisable to use a tripod to get clear shake free images. However, holding it against a wall or other solid object would work as well. For quick snapshots, hold it firmly against your body.
The table shows how this camera will perform using ISO 100/125 film. It is based on the 'Sunny 16' rule. Modern film is so forgiving and will produce acceptable results even when overexposed by 2 or 3 stops or underexposed by 1 stop.
The tables assume that the sun is at least 30 degrees above the horizon - that's 10am - 5pm on a summers day in the UK.
Remember that the exposure guide in the manual may not be helpful as it is based on the use of old film with a low ISO value.
Using ISO 100/125 film - shutter speed 1/50s
Weather Conditions
Shadow Detail
Aperture
Exposure
Sunny
Snow/Sand
Dark
with sharp edges
f/12
+3 Stops
Overexposed


Acceptable

Sunny
Distinct
f/12
+2 Stops
Overexposed


Acceptable

Slight Overcast
Soft around edges
f/12
+1 Stops
Overexposed


Acceptable

Overcast
Barely visible
f/12

Good

Heavy Overcast
None
f/12
-1 Stops
Underexposed


Acceptable

Open Shade
/Sunset
None
f/12
-2 Stops
Underexposed


Not Acceptable
Photographs taken with this Camera
This camera had pinholes in the bellows. See how I worked around this here:- Quick Fix for Bellows with Light Leaks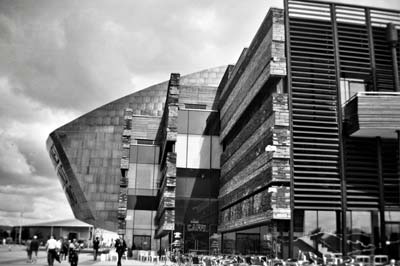 Millenium Centre Cardiff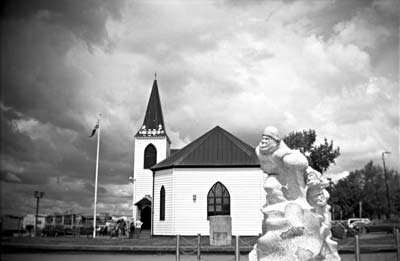 Scott of Antarctic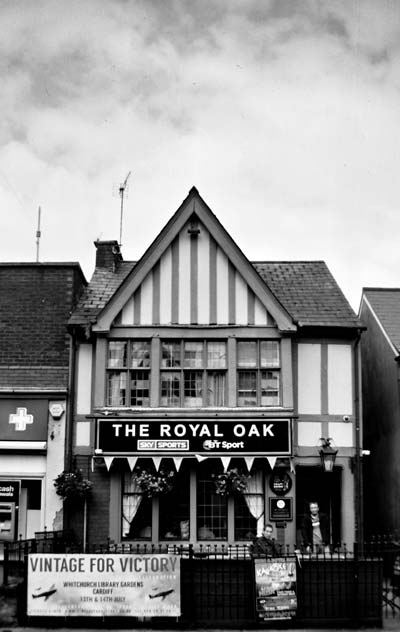 Royal Oak Whitchurch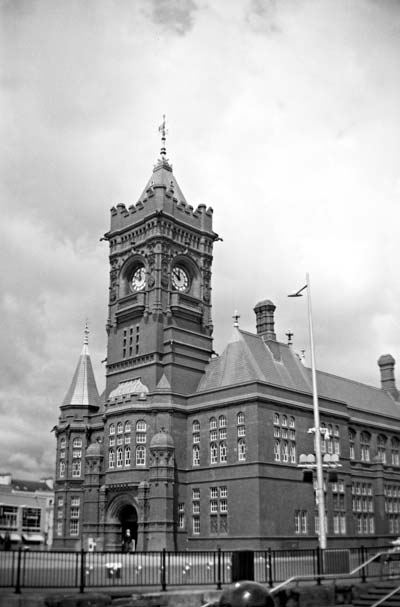 Pierhead Cardiff