Purma Special
Specification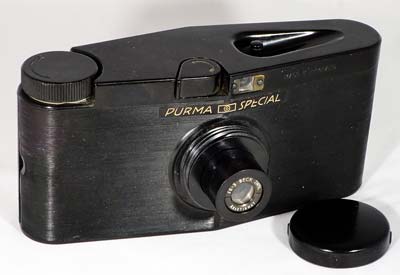 Purma Special
| | | |
| --- | --- | --- |
| Manufacturer | : | Purma |
| Produced | : | 1937 |
| Classification | : | Miniature |
| Body Type | : | Extending Body |
| Construction | : | Bakelite |
| Film Type | : | 127 |
| Film Width | : | 46mm |
| Image Size | : | 1¼ x 1¼ |
| No. of Images | : | 12 |
| Lens Type | : | Beck Anastigmat |
| Focal Length | : | 57mm |
| Focus Type | : | fixed |
| Focal Range | : | 10ft - Inf. |
| Aperture Type | : | Fixed |
| Apertures | : | f/6.3 |
| Shutter Type | : | Variable Speed |
| Shutter Speeds | : | 1/25s, 1/150s, 1/450s |
| Size Open (w x h x d) | : | 153 x 72 x 70 mm |
| Size Closed (w x h x d) | : | 153 x 72 x 56 mm |
| Weight | : | 365g |
Art Deco Credentials






Iconic: Famous, well-known and celebrated
Produced during the main Art Deco period.
Bakelite body with horizontal linear detailing.
Streamlined Moderne curvilinear body design.
Symmetrical body design.
Art Deco lettering on name plate.
Description
The design of this camera has been attributed to the London office of Raymond Loewy who was a Franco-American industrial design consultant for more than 200 companies, creating product designs for everything from cigarette packs and refrigerators, to cars, railway engines and spacecrafts. It surely shows the American Streamline Moderne influence.
It features fine ribbing on Bakelite and a tapering form, with a lens cap that conceals a telescoping lens. The shutter cannot be released until the cap is taken off and the lens extended.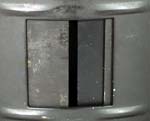 Adjustable Shutter Slit
The most unusual feature of this camera is the shutter, whose speed is controlled by gravity. As the photographs produced are square, the orientation of the camera does not matter. In the horizontal position, the camera has a medium shutter speed (1/150s). If the camera is turned clockwise to a vertical position, the slow speed is selected (1/50s). Turning it counterclockwise to a vertical position, the fast speed is selected (1/450s). The focal plane shutter is comprised of two metal plates that slide together across the curved film plane. As the camera is turned, the speed is varied by the position of brass cam/weight which changes the slit width. The mechanism acts with a spring, which in one vertical orientation acts against the weight to slow up the shutter and in the other vertical orientation acts with the weight to speed up the shutter. Ingenious!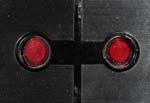 Two Film Windows
Film advance indicated by two windows and is not coupled to shutter. Cameras were supplied with both red and green film advance windows. The green plastic windows were for panchromatic film and the red for orthochromatic. These could be interchanged by the user. The film is advanced until the image number is seen in the first red window, and for the next frame, the film is advanced until the same image number appears in the second window.
How to Use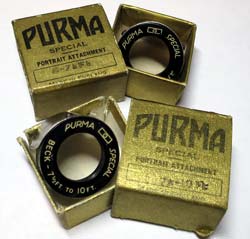 Close up lenses
This camera takes 127 film which is still available from select outlets - search for 'Rera Pan 100-127' which is a black & white film. For those photographers in the UK, try Nick & Trick photographic services. If you want to use a particular type of film which is not available commercially, then you can cut your own 127 film from any 120 film. See my page on 'How to cut 127 film from 120 film'.
I have had three of these cameras and one problem seems to be that the back film door doesn't always close properly. Also, there is often damage to the Bakelite seals. So, you may need some black electricians tape handy. At least put black tape over the red/green windows and only remove briefly to wind on the film - modern film is sensitive to red/green light!
Clip on close up lenses can be found. These lenses allow focussing betweeen 5ft and 7½ft or between 7½ft and 10ft. They are well made and come in a handsome gold box.
If you don't want to bother with an exposure meter, follow the guide shown. It is based on the 'Sunny 16' rule. Film is so forgiving and will produce acceptable results even when over-exposed by 2 or 3 stops or under-exposed by 1 stop.
The table assumes that the sun is at least 30 degrees above the horizon - that's 10am - 5pm on a summers day in the UK.
Remember that the exposure guide in the manual may not be helpful as it is based on the use of old film with a low ISO value.
So, on a nice sunny day, it's simplicity itself. Just load film, choose the correct speed and snap away.
Using ISO 100 film - Aperture f/6.3
Weather Conditions
Shadow Detail
Shutter Speed(s)
Exposure
Sunny
Snow/Sand
Dark
with sharp edges
1/450
+1½ Stops
Overexposed


Acceptable

Sunny
Distinct
1/450
½ Stop
Overexposed


Good

Slight Overcast
Soft around edges
1/150
+1 Stop
Overexposed


Acceptable

Overcast
Barely visible
1/150

Good

Heavy Overcast
None
1/50
½ Stop
Overexposed


Good

Open Shade
/Sunset
None
1/50
-½ Stop
Underexposed


Acceptable
Photographs taken with this Camera
Kodak Portra 160 film cut down to 127.
Developed in Tetenal.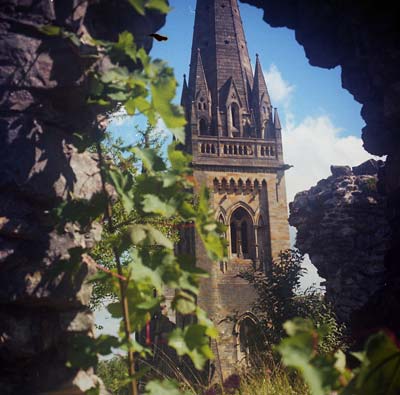 Llandaff Cathedral, Cardiff, Wales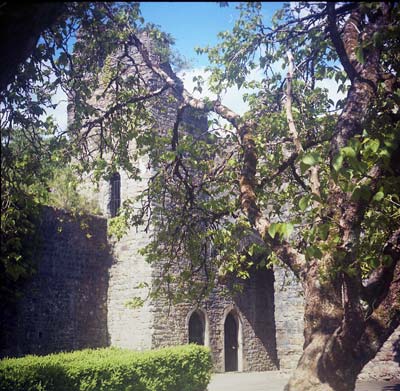 Bishops Palace, Cardiff, Wales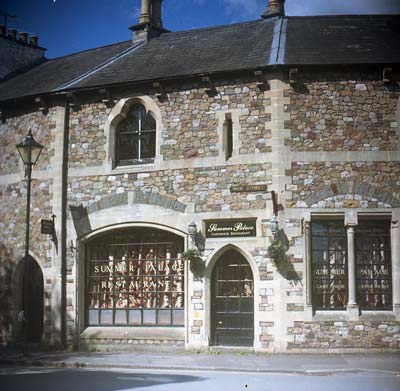 Llandaff High Street, Cardiff, Wales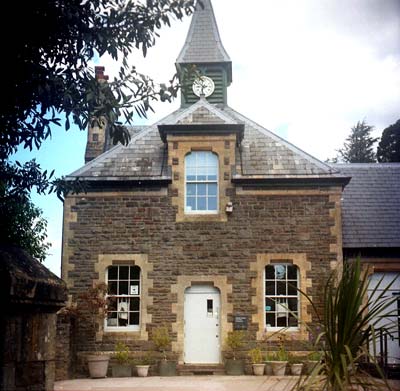 Old Stables, Insole Court, Cardiff, Wales