Six-16 "kodak" - Canadian model
Specification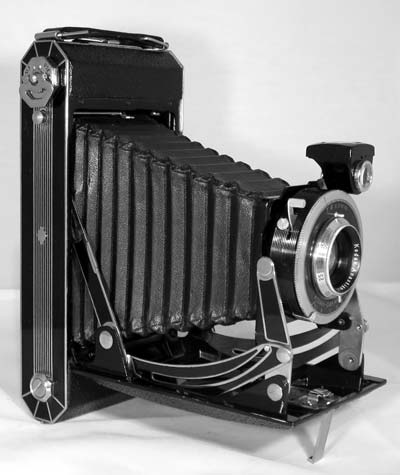 Six-16 'kodak' Canadian model
| | | |
| --- | --- | --- |
| Manufacturer | : | Kodak |
| Produced | : | Toronto Canada 1932-1935 |
| Classification | : | Medium Format |
| Body Type | : | Box |
| Bellows Deployment | : | Self Erecting |
| Construction | : | Metal |
| Film Type | : | 616 |
| Film Width | : | 70mm |
| ImageSize | : | 2½ x 4¼ in |
| No. of Images | : | 8 |
| Lens Type | : | Kodak Anastigmat |
| Focus Type | : | Variable |
| Focal Length | : | 128mm |
| Focal Range | : | 5ft - inf. |
| Aperture Type | : | Iris |
| Aperture | : | f/6.3 - f/32 |
| Shutter Type | : | Dakar No.1 |
| Shutter Speeds | : | T,B,1/10,1/25,1/50,1/100 sec |
| Size Closed (w x h x d) | : | 97 x 185 x 39 mm |
| Size Open (w x h x d) | : | 97 x 185 x 150 mm |
| Weight | : | 745g |
Art Deco Credentials






Iconic: Famous, well-known and celebrated
Produced during the main Art Deco period.
Ornate chrome and black enamel struts.
Angled ends to body.
Enamelled side panels with geometric chromed lines.
Raised diamond and octagonal motifs
Pig-grained leatherette
Octagonal film winder
Chrome and black enamel brilliant finder
Black enamelled pop-up viewfinder with chrome detailing
Description
The Six-16 Kodak is indeed a good looking camera. It was introduced in 1932 but from 1936 it was redesigned to become the model C. It was the first model to use the slimmer 616 film spool. It has angled ends to the body which is covered with pig-grained leatherette. It has a swivelling brilliant finder. A folding frame finder was added in 1934. It features black enamelled side panels with nickel lines. The struts are ornate with chrome with black enamel, unlike the redesigned Model C which are quite plain. It has a red window cover. It has tripod sockets for both landscape and portrait modes.
It supported various combinations of lens and shutter. These included Kodak Anastigmat f/6.3 and f/4.5 coupled with Diodak, Kodal, Kodon,compur and Dakar shutters. There is a socket for a cable release.
How to Use
This camera takes uses 616 film which is not available anymore except as expired films. This means that the camera needs modification to take 120 film. Modification is fairly straight forward and will easily give 5 'panoramic' exposures producing 2¼ x 4¼ inch negatives. Check out my page on 'Conversion of a 616 camera to take 120 film'.
Exposure
If you don't want to bother with an exposure meter, follow the guide shown. It is based on the 'Sunny 16' rule. Film is so forgiving and will produce acceptable results even when overexposed by 2 or 3 stops or underexposed by 1 stop.
Remember that the exposure guide in the camera user manual may not be helpful as it is based on the use of old film with a low ISO value.
The tables assume that the sun is at least 30 degrees above the horizon - that's 10am - 5pm on a summer's day (May - August) in the UK.
If you are not sure about the light level, err on the side of overexposure - i.e. assume the smaller f number.
Where there is a choice, a larger f number will give a larger depth of field.
For the slower speeds, you may need a tripod to stop blur through shake.
Using ISO 100/125 film
Weather Conditions
Shadow Detail
Shutter Speed (s)
1/25
1/50
1/100
Sunny
Snow/Sand
Dark
with sharp edges
-
f/32
f/22
Sunny
Distinct
f/32
f/22
f/16
Slight Overcast
Soft around edges
f/22
f/16
f/11
Overcast
Barely visible
f/16
f/11
f/8
Heavy Overcast
None
f/11
f/8
f/6.3
Open Shade
/Sunset
None
f/8
f/6.3
-