Kodak No.2A Beau Brownie
Specification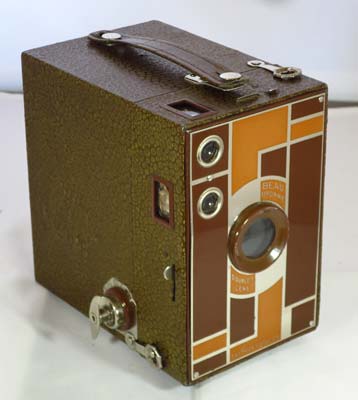 No.2A Beau Brownie
Brown/Tan
| | | |
| --- | --- | --- |
| Manufacturer | : | Kodak |
| Produced | : | 1930-1933 |
| Classification | : | Medium Format |
| Body Type | : | Box |
| Construction | : | Metal |
| Film Type | : | 116 |
| Film Width | : | 70mm |
| Image Size | : | 2½ x 4¼ in |
| No. of Images | : | 8 |
| Lens Type | : | Doublet |
| Focus Type | : | Fixed |
| Focal Length | : | 100mm |
| Focus Range | : | 10m to inf. |
| Aperture Type | : | Multihole |
| Aperture | : | f/11, f/16, f/22 |
| Shutter Type | : | Rotary |
| Shutter Speeds | : | T,I(1/30 sec) |
| Size (w x h x d) | : | 92 x 135 x 130 mm |
| Weight | : | 620g |
Art Deco Credentials






Iconic: Famous, well-known and celebrated
Produced during the main Art Deco period.
Designed by Walter Dorwin Teague.
Geometric design to front panel.
Chrome and enamel used.
Decorative case latches.
Octagonal plate around winder.
Patterned and coloured leatherette to match with decorative front panel
Matching leatherette on handle.
Description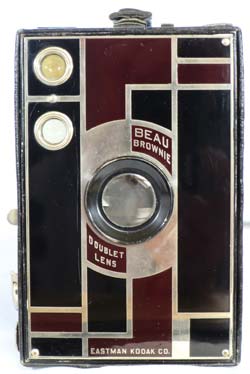 Maroon No.2A Beau Brownie
The Kodak Beau Brownie is a box-type camera from the 1930s with an Art Deco facade made ​​by designer Walter Dorwin Teague.
It was produced between 1930 and 1933 in two versions: the No.2 Beau Brownie for 120 film and the No.2A Beau Brownie for 116 film.
The front panel has a geometric design that has two different colours with borders in bright metal. Both versions were available in five colors:-

Black - black and burgundy(maroon), black leatherette
Tan - brown and tan, brown leatherette
Blue - dark blue and sky blue, blue leatherette
Green - turquoise and green, green leatherette
Rose - rose and pink, rose leatherette
The body is covered in textured letherette to match one of the colours in the face plate.
In Europe the No.2A Beau Brownie is not as common as the No.2 but are still available in black, blue and tan. The green and rose were not sold outside the US and so it's more difficult to get one of these. If you do find a green or rose No.2A Beau Brownie, it's going to be a lot more expensive. The rose colour quite often sells for ridiculous amounts.
How to Use
Find the manual here:- Beau Brownie Manual - 2 & 2A
Being nearly 90 years old, it would probably benefit from cleaning the lenses and viewfinders. This is easy to do and most worthwile. Check out my page:- 'Restoration of a Beau Brownie'.
The No.2A Beau Brownie uses 116 film which is not available anymore except as expired films. This means that the camera needs modification to take 120 film. Modification is fairly straight forward and will easily give 5 'panoramic' exposures producing 2¼ x 4¼ inch negatives. Check out my page on 'Conversion of a 116 camera to take 120 film'.
This camera has three aperture settings of f/11, f/16 and f/22 which are changed using a sliding tab. With a shutter speed of only 1/30 sec, make sure you use a tripod or brace the camera against your body or something solid. Press the shutter smoothly to avoid camera shake.
If you don't want to bother with an exposure meter, follow the guide below. It is based on the 'Sunny 16' rule. Film is so forgiving and will produce acceptable results even when over-exposed by 2 or 3 stops or under-exposed by 1 stop.
If you are not sure about the light level, err on the side of overexposure - i.e. assume the lower light level.
The tables also assume that the sun is at least 30 degrees above the horizon - that's 10am - 5pm on a summers day (May - August) in the UK.
Using ISO 100/125 Film - Shutter Speed 1/30s
Weather Conditions
Shadow Detail
Aperture
Exposure
Sunny
Snow/Sand
Dark
with sharp edges
Tab Up
f/22
+2 Stops
Overexposed


Acceptable

Sunny
Distinct
Tab up
f/22
+1 Stop
Overexposed


Acceptable

Slight Overcast
Soft around edges
Tab up
f/22

Good

Overcast
Barely visible
Tab Middle
f/16

Good

Heavy Overcast
None
Tab Down
f/11

Good

Open Shade
/Sunset
None
Tab Down
f/11
-1 Stops
Underexposed


Acceptable