Kershaw Soho Eight-20 Penguin
Specification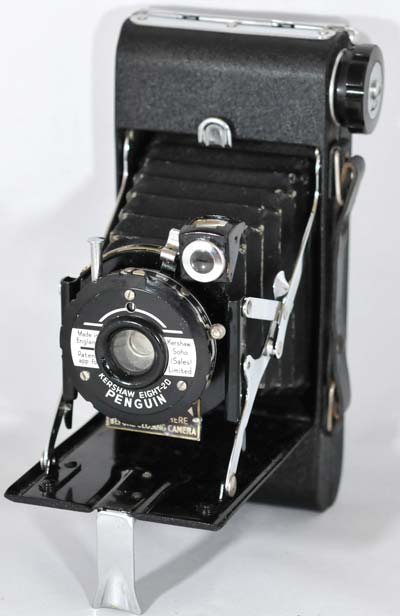 Kershaw Soho Eight-20 Penguin
Manufacturer
:
Kershaw Soho (Sales) Ltd
Produced
:
1950
Classification
:
Medium Format
Body Type
:
Folding Bed
Bellows Deployment
:
Self Erecting
Construction
:
Metal
Film Type
:
120
Film Width
:
62mm
Image Size
:
2¼ x 3¼ in
No. of Images
:
8
Lens Type
:
Doublet
Focal Length
:
90mm
Focus Type
:
Variable
Focal Range
:
6ft - inf.
Aperture Type
:
Multi-hole
Aperture
:
f/11, f/16
Shutter Type
:
Leaf
Shutter Speeds
:
B, I*(1/50 sec)
Size Open (w x h x d)
:
85 x 165 x 125 mm
Size Closed (w x h x d)
:
85 x 165 x 35 mm
Weight
:
488g
* Measured on this camera
Art Deco Credentials


Limited: Minor and insubstantial
Produced after the main Art Deco period.
Metal body with black crackle paint.
Chrome struts.
Other chrome highlights.
Description
This is a well made camera having a metal body coated with black crackle paint. The body of the lens/shutter combination is plastic. Many parts are chromed including the struts, table stand, viewfinder bezel, winding knob and red window bezel. The camera takes eight 6cm x 9cm frames on 120 film.
It has a fixed instant shutter speed but it can also be used in 'Time' mode. The outer wheel on the lens body allows the choice of I or B. A lever on the side of the lens selects one of two aperture values - f/11 or f/16. It has a swivelling viewfinder for use in portrait or landscape mode. A lever above the lens allows focussing between 6ft and infinity. This is achieved by moving the whole lens/shutter combination forward for close ups using a ramp helical system.
The handle is on the side rather than the end of the camera. There is no cover on the red window. It has a table stand but does not have any tripod mounts.
How to Use
Find the manual for this camera here:- Kershaw Penguin Manual
This camera takes 120 film which is easily available. It supports Timed mode and Instant with a speed of 1/50 sec. It has a aperture settings from f/11and f/16. With slow shutter speeds of only 1/50 sec, make sure you brace the camera against your body or use the table stand and press the shutter smoothly to avoid camera shake. Cover the red window except for winding on in subdued light.
If you don't want to bother with an exposure meter, follow the guide shown. It is based on the 'Sunny 16' rule. Film is so forgiving and will produce acceptable results even when overexposed by 2 or 3 stops or underexposed by 1 stop.
Remember that the exposure guide in the camera user manual may not be helpful as it is based on the use of old film with a low ISO value.
The tables assume that the sun is at least 30 degrees above the horizon - that's 10am - 5pm on a summer's day (May-August) in the UK.
If you are not sure about the light level, err on the side of overexposure - i.e. assume the smaller f number.
Where there is a choice, a larger f number will give a larger depth of field.
Using ISO 100/125 film - shutter speed 1/50s
Weather Conditions
Shadow Detail
Aperture
Exposure
Sunny
Snow/Sand
Dark
with sharp edges
f/16
+2 Stop
Overexposed


Acceptable

Sunny
Distinct
f/16
+1 Stop
Overexposed


Acceptable

Slight Overcast
Soft around edges
f/16

Good

Overcast
Barely visible
f/11

Good

Heavy Overcast
None
f/11
-1 Stop
Underexposed


Acceptable

Open Shade
/Sunset
None
f/11
-2 Stops
Underexposed


Unacceptable