Industries Matutano Capta-II
Specification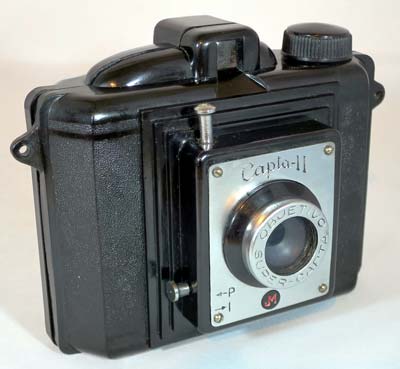 Capta-II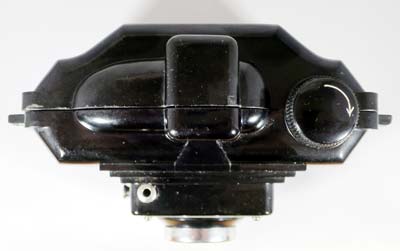 Capta-II Top View
Manufacturer
:
Industrias Matutano
Produced
:
1952
Classification
:
Medium Format
Body Type
:
Solid Body
Construction
:
Bakelite
Film Type
:
120
Film Width
:
62mm
Image Size
:
2½" x 1⅝" (6x4.5 cm)
No. of Images
:
16
Lens Type
:
Coated Super Capta
Focal Length
:
60mm
Focus Type
:
fixed
Focal Range
:
8ft - Inf.
Aperture Type
:
Fixed
Apertures
:
f/16
Shutter Type
:
Rotary
Shutter Speeds
:
P, I*(1/50s)
Size (w x h x d)
:
128 x 94 x 72 mm
Weight
:
298g
* Measured on this camera
Art Deco Credentials




Noteworthy: Worth giving special attention
Produced after the main Art Deco period.
Bakelite body
Curvilinear body shape
Curvilinear viewfinder shape
Stepped feature around lens to mimic bellows
Brushed aluminium facia and lens bezel
Linear decorative stripes on body
Body impressed with leather pattern
Chromed shutter controls
Concentric circles around red window
Description
The Capta-II has a Bakelite body and was designed by Julio Matutano. His initials JM are seen as a trademark on the front of the camera. The Capta II uses 120 film. The style is similar to the Capta-I (1944) which took 127 film. It was initially manufactured by Industrias Sintéticas Abril but from 1955 it was made exclusively by Industrias Matutano. It is a good looking camera making full use of the advantages of Bakelite for styling. It does not hold back from using styling elements that have no relation to function.
It has a simple rotary shutter having both Instantaneous(I) and Bulb (P 'Pose') functions. A rod is pulled at the side of the lens mount to engage the bulb function. The Super Capta lens is coated with blue anti-reflective material. It takes 16 frames on 120 film. However, not all 120 film is suitable (See Below). There is a red window on the rear which does not have a cover. A single tripod mount is provided.
How to Use
This camera takes 16 exposures on 120 film which is easily available. However some 120 film, like Kodak Portra, does not have the annotation required for 16 exposures in the right place. Ilford FP4+ and Ilford Delta 100 & 400 are OK to use for instance. Try to get hold of some backing paper for the film you will be using to check that the annotation for 16 frames lines up with the red window. The centre of the annotation needs to be 17mm from the top edge of the film. You must cover the red window with black tape and only remove it to wind on the film in subdued light.
If you don't want to bother with an exposure meter, follow the guide shown. It is based on the 'Sunny 16' rule. Film is so forgiving and will produce acceptable results even when over-exposed by 2 or 3 stops or under-exposed by 1 stop.
The table shown assumes the shutter speed is about 1/50s.
The table also assumes that the sun is at least 30 degrees above the horizon - that's 10am - 5pm on a summers day in the UK.
Remember that the exposure guide in the manual may not be helpful as it is based on the use of old film with a low ISO value.
Make sure you brace the camera against your face or something solid and press the shutter smoothly to avoid camera shake.
Using ISO 100/125 film - shutter speed 1/40s
Weather Conditions
Shadow Detail
Aperture
Exposure
Sunny
Snow/Sand
Dark
with sharp edges
f/16
+2 Stops
Overexposed


Acceptable

Sunny
Distinct
f/16
+1 Stop
Overexposed


Acceptable

Slight Overcast
Soft around edges
f/16

Good

Overcast
Barely visible
f/16
-1 Stop
Underexposed


Acceptable

Heavy Overcast
None
f/16
-2 Stops
Underexposed


Not Acceptable

Open Shade
/Sunset
None
f/16
-3 Stops
Underexposed


Not Acceptable