Barnet Ensign Ross Ful-Vue II
Specification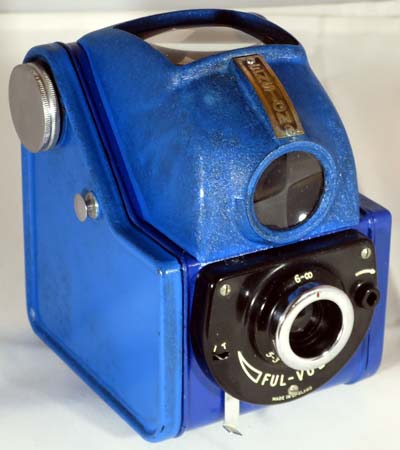 Ensign Barnet Ful-Vue II
Manufacturer
:
Barnet Ensign Ross
Produced
:
1953
Classification
:
Medium Format
Body Type
:
Box
Film Type
:
120
Film Width
:
62mm
Image Size
:
2¼ x 2¼ in
Lens Type
:
Meniscus
Focal Length
:
90mm
Focus Type
:
Variable
Focal Range
:
2ft - inf.
Aperture Type
:
fixed
Aperture
:
f/11
Shutter Type
:
leaf
Shutter Speeds
:
I*(1/40 sec), B
Size (w x h x d)
:
80 x 102 x 108 mm
Weight
:
420g
* Measured on this camera
Art Deco Credentials




Noteworthy: Worth giving special attention
Produced after the main Art Deco period.
Streamlined rounded corners.
Bakelite lens plate
Pressed steel body.
Chrome embellishments.
Shows a symmetrical front aspect.
Description
Often referred to as Art Deco, this camera sits better in the Streamline Moderne category. Streamline Moderne is a late type of the Art Deco design style that emerged in the 1930s in America and continued into the 1940s. The style emphasized curving forms. The camera embraced the principals of streamlining as suggested by the American designer Harold van Doren in his book 'Streamlining in Industrial Design' of 1940. The original camera having this style was produced in 1946 for the 'Britain Can Make It' exhibition that was held at the Victoria and Albert Museum. A 'flash' model was brought out in 1950. In 1953 Ensign introduced coloured versions of the camera in red, blue and gold to mark the Coronation celebrations.
You can't help but notice the large viewfinder on the top of the camera - hence the name Ful-Vue. The viewfinder is easy to use and is exceptionally bright. The film transport system is removed from the side when a knob is turned to release it on the other side of the camera. A knob is used to advance the film and proper framing is acheived by the use of a red window on the rear of the camera. Focus is achieved by turning the lens bezel on the front of the camera and the focus range is from 2ft to Infinity. A tripod mount is found on the base.
Shutter speed is fixed at about 1/40s with the aperture fixed at f/11. The shutter is released by pushing a lever below the lens upward. A switch provides for 'bulb' shutter mode. There is a flash synchronisation terminal on the front which was a new addition to the 1950s model.
How to Use
See Instruction Manual for the original camera is found here : https://www.butkus.org/chinon/ful-vue/ful-vue_guide.htm. The main difference to this camera is the focussing and the flash terminals. This camera takes 120 film which is easily available from photographic outlets or on-line.
If you don't want to bother with an exposure meter, follow the guide shown. It is based on the 'Sunny 16' rule. Film is so forgiving and will produce acceptable results even when overexposed by 2 or 3 stops or underexposed by 1 stop.
Remember that the exposure guide in the camera user manual may not be helpful as it is based on the use of old film with a low ISO value.
The tables assume that the sun is at least 30 degrees above the horizon - that's 10am - 5pm on a summer's day (May-August) in the UK.
This camera has an f/11 aperture and a shutter speed of about 1/40s
The slow shutter speed means that you need to hold this camera steady when taking photographs.
Using ISO 100/125 film - shutter speed 1/40s
Weather Conditions
Shadow Detail
Aperture
Exposure
Sunny
Snow/Sand
Dark
with sharp edges
f/11
+3 Stops
Overexposed


Acceptable

Sunny
Distinct
f/11
+2 Stops
Overexposed


Acceptable

Slight Overcast
Soft around edges
f/11
+1 Stops
Overexposed


Acceptable

Overcast
Barely visible
f/11

Good

Heavy Overcast
None
f/11
-1 Stop
Underexposed


Acceptable

Open Shade
/Sunset
None
f/11
-2 Stops
Underexposed


Not Acceptable