Ebner 6x9
Specification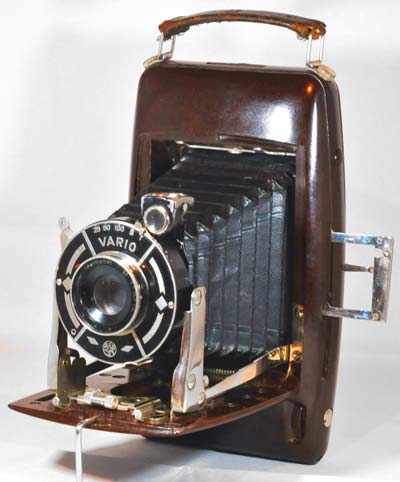 Ebner 6x9
| | | |
| --- | --- | --- |
| Manufacturer | : | Ebner GmbH |
| Produced | : | 1934 |
| Classification | : | Medium Format |
| Body Type | : | Folding Bed |
| Bellows Deployment | : | Self Erecting |
| Construction | : | Brown Marbled Bakelite |
| Film Type | : | 120 |
| Film Width | : | 62mm |
| ImageSize | : | 2¼ x 3¼ in |
| No. of Images | : | 8 |
| Lens Type | : | Cooke Triplet Anastigmat |
| Focal Length | : | 105mm |
| Focus Type | : | Variable |
| Focal Range | : | 1.5m - inf. |
| Aperture Type | : | Variable Iris |
| Aperture | : | f6.3 - f/36 |
| Shutter Type | : | Vario |
| Shutter Speeds | : | T,B, I(1/25, 1/50, 1/100 s) |
| Size Open (w x h x d) | : | 105 x 180 x 140 mm |
| Size Closed (w x h x d) | : | 105 x 180 x 37 mm |
| Weight | : | 582g |
Art Deco Credentials






Iconic: Famous, well-known and celebrated
Produced after the main Art Deco period.
Moulded Brown Marbled Bakelite body.
Streamline Moderne Style
Leather patterning on Bakelite.
Chrome struts
Chrome table stand and handle fixings.
Chrome pop-up finder
Chrome bezel around viewfinder.
Description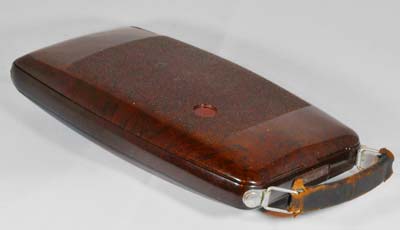 Ebner 6x9 - Streamline Moderne
This Ebner has a beautifully shaped 'streamline moderne' body. The soft curves make it very portable. It produces 8 images of size of 2¼ x 3¼ in (6x9cm) using Kodak's 120 format roll film. The camera varies in complexity, some with simple three-speed Pronto shutters, and others with multi-speed Compur or Vario shutters. Lens and shutter combinations included: Cooke Triplet f 6.3/Vario, f4.5 Troplan/Pronto, f3.5 Primotar/Compur and f3.8 Tessar/Compur.
The Cooke Triplet lens has non standard aperture markings of f/6.3, f/9, f/12.5, f/18, f/25 and f/36.
It had no name other than the size of the image it took. It has an interesting but useless folding sports viewfinder which is frustrating to use. However, it does have a waist level viewfinder that swivels so it can be used in portrait or landscape mode. It has a single tripod mount and a table stand, both for use in portrait mode.
How to Use
This camera takes 120 film which is easily available. It supports Timed mode and Instant with a speeds from 1/25 to 1/100 sec. It has a aperture settings from f/6.3 to f/36. With slow shutter speeds of only 1/25 or 1/50 sec, make sure you brace the camera against your body or use a tripod and press the shutter smoothly to avoid camera shake.
If you don't want to bother with an exposure meter, follow the guide shown. The shutter speeds are 1/25s, 1/50s and 1/100s. It is based on the 'Sunny 16' rule. Film is so forgiving and will produce acceptable results even when overexposed by 2 or 3 stops or underexposed by 1 stop.
Remember that the exposure guide in the camera user manual may not be helpful as it is based on the use of old film with a low ISO value.
The tables assume that the sun is at least 30 degrees above the horizon - that's 10am - 5pm on a summer's day (May-August) in the UK.
If you are not sure about the light level, err on the side of overexposure - i.e. assume the smaller f number.
Where there is a choice, a larger f number will give a larger depth of field.
Using ISO 100/125 film
Weather Conditions
Shadow Detail
Shutter Speed (s)
1/25
1/50
1/100
Sunny
Snow/Sand
Dark
with sharp edges
-
f/36
f/25
Sunny
Distinct
f/36
f/25
f/18
Slight Overcast
Soft around edges
f/25
f/18
f/12.5
Overcast
Barely visible
f/18
f/12.5
f/9
Heavy Overcast
None
f/12.5
f/9
f/6.3
Open Shade
/Sunset
None
f/9
f/6.3
-