Butcher Midg Model 0
Specification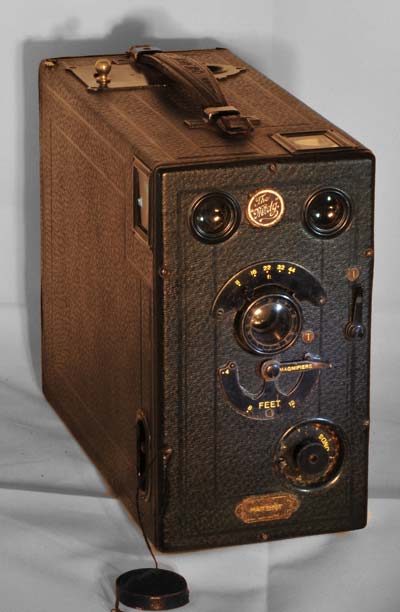 Butcher Midg Model 0
| | | |
| --- | --- | --- |
| Manufacturer | : | Butcher |
| Produced | : | 1905 |
| Classification | : | Medium Format |
| Body Type | : | Box |
| Construction | : | Wood |
| Film Type | : | Drop Plates |
| Plate Size | : | 4" x 3" |
| No. of Plates | : | 12 |
| Lens Type | : | Rectilinear Rapid |
| Focal Length | : | 130mm |
| Focus Type | : | Variable |
| Focus Range | : | 4ft to inf. |
| Aperture Type | : | Iris |
| Aperture | : | f/11 to f/44 |
| Shutter Type | : | Rotary |
| Shutter Speeds | : | T,I*(1/100 - 1 sec) |
| Size (w x h x d) | : | 100 x 185 x 230 mm |
| Weight | : | 1228g |
Description
The Butcher Midg 0 is a falling plate camera made altmost entirely of wood to support the various mechanisms. It uses glass plates covered in emulsion. The plates are held in the back of the camera and after every shot, a lever is activated to drop the used plate into the base of the camera. A new plate is presented. Up to 12 plates can be held in the camera at one time. A counter allows you to know how many plates have been exposed. The plates must be loaded in a dark room.
It's rather a large camera with viewfinder for both portrait and landscape images. There are tripod mounts for both portait and landscape images as well.
The Rectilinear Rapid lens can be focussed using a leaver that moves different magnifying lenses into place. Focussing at 4,8,12 feet and infinity can be achieved. The aperture can be varied between f/11 and f/44 using a lever that operates an iris.
The rotary shutter uses a spring to vary the speed between 1/100s and 1s. A time function can also be used.
All in all, a very capable camera for this era.