Six-16 "kodak" - US model
Specification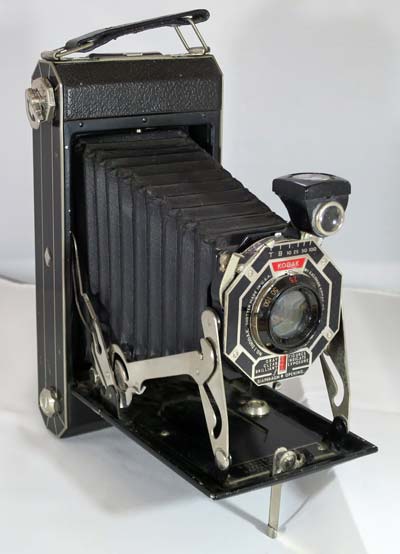 Six-16 'kodak' US model
| | | |
| --- | --- | --- |
| Manufacturer | : | Kodak |
| Produced | : | US 1932-1935 |
| Classification | : | Medium Format |
| Body Type | : | Folding Bed |
| Bellows Deployment | : | Self Erecting |
| Construction | : | Metal |
| Film Type | : | 616 |
| Film Width | : | 70mm |
| ImageSize | : | 2½ x 4¼ in |
| No. of Images | : | 8 |
| Lens Type | : | Kodak Anastigmat |
| Focus Type | : | Variable |
| Focal Length | : | 126mm |
| Focal Range | : | 6ft - inf. |
| Aperture Type | : | Iris |
| Aperture | : | f/6.3 - f/32 |
| Shutter Type | : | No.1 Diodak |
| Shutter Speeds | : | T,B,1/10,1/25,1/50,1/100 sec |
| Size Closed (w x h x d) | : | 97 x 185 x 39 mm |
| Size Open (w x h x d) | : | 97 x 185 x 150 mm |
| Weight | : | 750g |
Art Deco Credentials






Iconic: Famous, well-known and celebrated
Produced during the main Art Deco period.
Octagonal face plate design with red highlights.
Ornate chrome struts.
Angled ends to body.
Enamelled side panels with nickel lines.
Raised diamond and octagonal motifs
Pig-grained leatherette
Octagonal film winder
Chrome and black enamel brilliant finder
Description
The Six-16 Kodak was introduced in 1932 but from 1936 it was redesigned to become the model C. It was the first model to use the slimmer 616 film spool. It has angled ends to the body which is covered with pig-grained leatherette. It has a brilliant finder as well. A folding frame finder was added in 1934. It features black enamelled side panels with nickel lines. The shutter plate is octagonal with chrome and black enamel deco pattern as well as bright red highlights. It has no red window cover. The struts are chrome and ornate unlike the redesigned Model C which are quite plain.
It supported various combinations of lens and shutter. These included Kodak Anastigmat f/6.3 and f/4.5 coupled with Diodak, Kodal, Kodon,compur and Dakar shutters.
The Shutter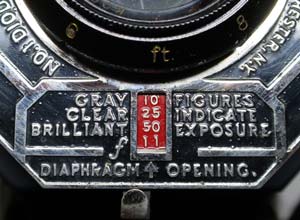 Exposure Guide
Directly beneath the lens there is an opening in the shutter plate, which is an exposure guide. At the left of the opening there are three words: Grey, Clear and Brilliant. These words indicate three degrees of light intensity, defined as follows:
Grey - hazy or dull sunlight, when only faint shadow is visible. Sky overcast with light clouds, or smoky atmosphere.
Clear - ordinary sunlight; also intense sunlight when it is not shining directly on to the principal part of the subject.
Brilliant - intense sunlight. When the sunlight is very clear and intense, and is shining directly on the principal part of the subject.
When the stop opening lever is moved, rows of figures appear in the opening under the lens. The lowest figure, next to the letter f indicates the stop opening, the other figures give the correct exposure timing for that stop under each of three lighting conditions. The figure next to the prevailing light condition, is the figure to set the speed indicator at the top of the shutter.
How to Use
User manual here. Although this camera has an exposure guide for determining the correct shutter speed, it will not be useful when using modern films. This was designed for when film speed was around ISO 25 equivalent . If you use it with ISO 100/125 film, expect your photos to be 2 stops overexposed.
The table below is a better guide to shutter speed values when ISO 100/125 film is used. It shows any overexposure in stops. Note that there is quite a bit of latitude when using modern film and up to 3 stops of overexposure should still produce useable images.
Shutter Speed (overexposure)
f number
6.3
8
11
16
22
32
Grey
100(+2)
100(+1)
100
50
25
10
Clear
100(+3)
100(+2)
100(+1)
100
50
25
Brilliant
100(+4)
100(+3)
100(+2)
100(+1)
100
50
This camera takes uses 616 film which is not available anymore except as expired films. This means that the camera needs modification to take 120 film. Modification is fairly straight forward and will easily give 5 'panoramic' exposures producing 2¼ x 4¼ inch negatives. Check out my page on 'Conversion of a 616 camera to take 120 film'.