Indra Lux
Specification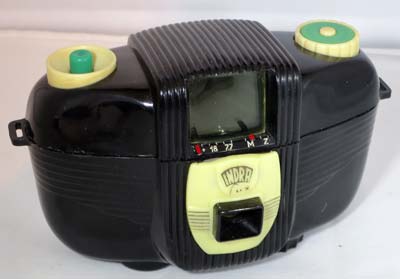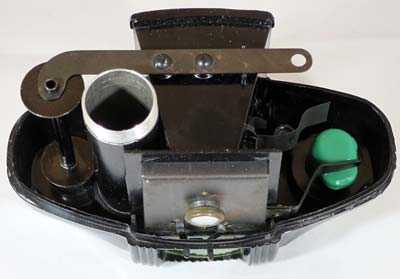 Indra Lux
Manufacturer
:
Indra-Camera G.m.b.H.
Produced
:
1949
Classification
:
Medium Format
Body Type
:
Solid Body
Construction
:
Plastic
Film Type
:
127
Film Width
:
46mm
Image Size
:
1½ x 1½ in
No. of Images
:
12
Lens Type
:
Uncoated meniscus
Focal Length
:
55mm
Focus Type
:
Fixed
Focal Range
:
1.5m - inf.
Aperture Type
:
Multiple Stops
Aperture
:
f/7.7, f/12+ f/18
Shutter Type
:
Rotary
Shutter Speeds
:
T, I*(1/100 sec)
Size (w x h x d)
:
139 x 85 x 78 mm
Weight
:
153g
* Measured on this camera
Art Deco Credentials






Iconic: Famous, well-known and celebrated
I consider this camera to warrant 5 stars for the following attributes:
Designed after the main Art Deco period
Bakelite look-a-like plastic body
Steamlined Curvilinear shape
Wing-like horizontal steps surrounding camera body
Optical finder with vertical ribbed pattern surround
Film winder and shutter release in white plastic with green highlights
Horizontal bars on white sheild shaped lens surround
Art Deco lettering on lens surround
Description
The Indra Lux is a plastic camera that was made in Germany by Indra-Camera G.m.b.H. in 1949. Although it was designed after the main Art Deco period, it retains all the characteristics of the period. This camera is not made from Bakelite but a non-thermosetting plastic (It fails the hot-pin test).
This beautiful designed camera has two interesting features which are not immediately obvious. When you take off the bottom of the camera to load the film, you will find a tube for storing a second film. The large viewfinder is tinted which according to some sources helps with the sharpness of the image and to simulate what you'd see on black & white film. (I'm not convinced of this!)
It's got a fixed-focus 55mm/f7.7 Wetzlar Optik-Rau lens which can be stopped down to f/12+ and f/18. Not sure what the +sign is all about. The focus range depends on the aperture:- f/18 gives 1.5m - inf., f/12+ gives 2m -inf. and f/7.7 gives 2.5m - 7m. It has a rotary shutter which I measured as having a speed of 1/100s. This seems a bit fast for a camera of this age. It may not have been the original design speed which would be more like 1/30s. This camera was capable of capturing twelve 4 x 4 cm exposures on standard no. 127 roll film. Film advancement is by a green window on the back but cameras having red windows also exist.
Two feet on the bottom allow it to sit flat. The one of them has the tripod socket and the other one unscrews to give access to the film transport system and a storage compartment for a spare roll of 127 film.
The Indra Lux was advertised as being unbreakable. It is certainly more flexible than any Bakelite cameras but if you dropped it, it would break. The purchase price included a one-year warranty against breakage. Perhaps this contributed to the demise of Indra-Camera as they were only in business for a few months.
How to Use
Find the Indra Lux Manual(German) here:- Indra Lux Manual
This camera takes 127 film which is still available from select outlets - search for 'Rera Pan 100-127' which is a black & white film. For those photographers in the UK, try Nick & Trick photographic services. If you want to use a particular type of film which is not available commercially, then you can cut your own 127 film from any 120 film. See my page on 'How to cut 127 film from 120 film'.
Don't forget to cover the red/green window on the back except when winding on in subdued lighting. Unfortunately, the red/green window does not line up properly with the annotation on the film making it difficult to see. You can only see the bottom half of the numbers.
If you don't want to bother with an exposure meter, follow the guide shown. It is based on the 'Sunny 16' rule. Film is so forgiving and will produce acceptable results even when overexposed by 2 or 3 stops or underexposed by 1 stop.
The table assumes that the sun is at least 30 degrees above the horizon - that's 10am - 5pm on a summer's day in the UK.
This camera has a shutter speed of 1/100s. This is the speed of this particular camera. If you have a camera with a different shutter speed then some adjustment will be necessary. For instance, if the shutter speed is 1/50s then the images will be overexposed by about 1 stop. Negative film will be able to deal with this. I have put this table here for my reference.
Using ISO 100/125 film - shutter speed 1/100s
Weather Conditions
Shadow Detail
Aperture
Exposure
Sunny
Snow/Sand
Dark
with sharp edges
f/18
+1 Stop
Overexposed


Acceptable

Sunny
Distinct
f/18

Good

Slight Overcast
Soft around edges
f/12+

Good

Overcast
Barely visible
f/7.7

Good

Heavy Overcast
None
f/7.7
-1 Stops
Underexposed


Acceptable

Open Shade
/Sunset
None
f/7.7
-2 Stops
Underexposed


Not Acceptable
Photographs taken with this Camera
Kodak Portra 160 film cut down to 127.
Developed in Tetenal.
I must admit I was disappointed with the images taken by this camera. The viewfinder only seems to cover 50% of the image so your perfectly framed picture has a load of extraneous material around it. I have had to crop most images to remove the offending material. Secondly, the focus is OK at f/18 but at f/12 it's rubbish and at f/7.7 it's a joke with soft edges.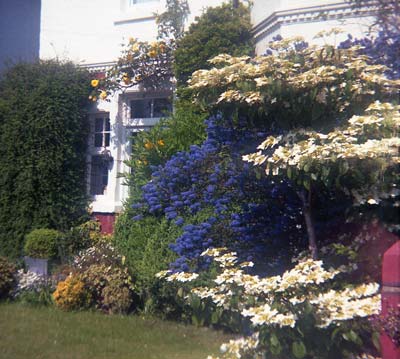 A Front Garden, Cardiff, Wales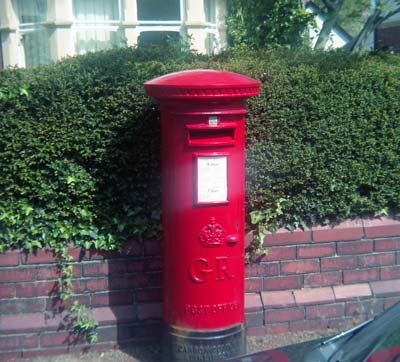 Post Box 1920 (George V), Cardiff, Wales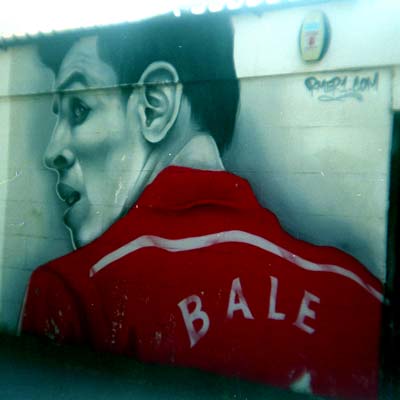 Mural of Gareth Bale, Cardiff, Wales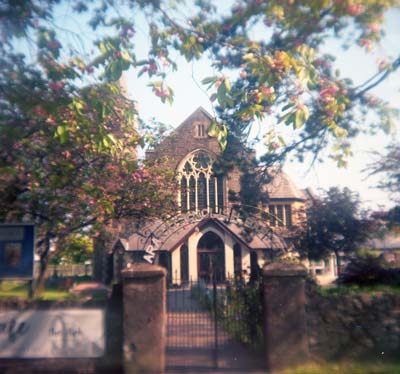 Ararat Church, Cardiff, Wales