Ensign Midget Model 33
Specification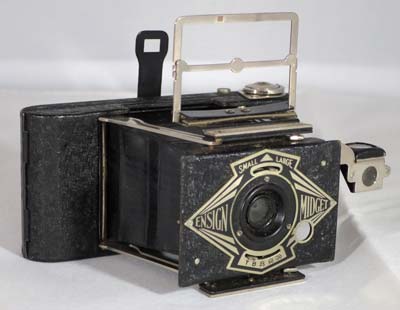 Ensign Midget Model 33
| | | |
| --- | --- | --- |
| Manufacturer | : | Houghton-Butcher Manufacturing Co Ltd |
| Produced | : | 1934 - 1941 |
| Classification | : | Miniature |
| Body Type | : | Folding Strut |
| Construction | : | Metal |
| Film Type | : | E10 |
| Film Width | : | 35mm |
| Image Size | : | 1¼ x 1⅝ |
| Lens Type | : | Meniscus |
| Focus Type | : | Fixed |
| Focal Length | : | 55mm |
| Focal Range | : | 5ft - inf. |
| Aperture Type | : | Multihole |
| Apertures | : | f/11, f/16 |
| Shutter Type | : | Variable |
| Shutter Speeds | : | T, B, I(1/25, 1/50, 1/100) |
| Size Open (w x h x d) | : | 90 x 45 x 62 mm |
| Size Closed (w x h x d) | : | 90 x 45 x 18 mm |
| Weight | : | 145g |
Art Deco Credentials





Significant: Pronounced and self evident
Produced during the main Art Deco period.
Angular geometric design on front face.
Chrome used on struts.
Chrome used on film winder.
Description
Metal bodied (pressed steel) miniature folding camera with tapered supporting struts that fold away into the body. When extended, the struts are designed to hold the front panel in a rigid position. It features a simple viewfinder that folds out from the back and top, and also a brilliant finder that is normally closed for vertical views but can swing out when a horizonal view is required. It has two stops, one marked 'small' (f/16) and one marked 'large' (f/11).
It is one of a set of midgets which have model numbers 22, 33 and 55. These numbers refer to the cost when new - ie. 22 shillings, 33 shillings and 55 shillings. A shilling is 5 pence in today's money. However, in 1935 this was a lot of money. 22 shillings=£75 today.
How to Use
Find the manual here. This camera takes Ensign E10 film which is not available except as expired film. It is possible to roll 35mm film into old backing paper.