Coronet Victor
Specification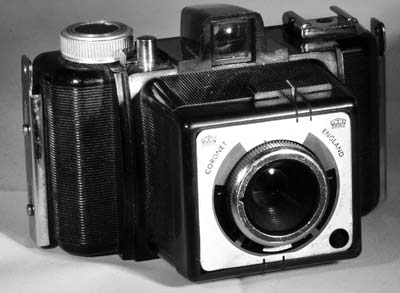 Coronet Victor
*Note: that the annotation on the front plate for speed, focus and aperture is normally red. However, for this particular camera it is very faint and hardly visible. ☹
| | | |
| --- | --- | --- |
| Manufacturer | : | Coronet |
| Produced | : | 1945 |
| Classification | : | Medium Format |
| Body Type | : | Solid Body |
| Construction | : | Plastic |
| Film Type | : | 127 |
| Film Width | : | 46mm |
| ImageSize | : | 1⅝ x 1⅝ in |
| No. of Images | : | 12 |
| Lens Type | : | Meniscus |
| Focal Length | : | 60mm |
| Focus Type | : | Variable |
| Focal Range | : | 3.9ft - inf. |
| Aperture Type | : | Variable |
| Aperture | : | f/16, f/11 |
| Shutter Type | : | leaf |
| Shutter Speeds | : | I(1/100s & 1/30s) |
| Flash | : | Synchronised PC terminal |
| Size (w x h x d) | : | 125 x 80 x 82 mm |
| Weight | : | 360g |
Art Deco Credentials




Noteworthy: Worth giving special attention
Produced after the main Art Deco period.
Moulded plastic body.
Design shows stepped features.
Curvilinear shape
Concerntric pattern on winder
Multi-line deep pattern in plastic.
Use of chrome on side locks for back.
Use of chrome on focus ring and accessory holder.
Description
The camera is one of many cameras made by Coronet. It has a finely ribbed plastic body. It has a reverse telescopic viewfinder on the top.
This is a 4x4 cm format camera, 12 images per film, using 127 film. The advance knob of the film is aluminum. The objective meniscus lens can be adjusted by turning to focus from 3.9ft to infinity. Information is supplied on the back of the camera regarding the depth of focus for each focal position.
The aperture has two positions, f/16 & f/11. The shutter works in instanraneous mode only. The shutter release has a metal sider to lock the shutter. The shutter speed can be set to 1/100 sec and 1/30s.
Frame advance is by red window. The red window has no cover. There is an accessory mount on the body but there is no tripod mount. A synchronised PC terminal is found on the front for use with flash.
How to Use
This camera takes 127 film which is still available from select outlets - search for 'Rera Pan 100-127' which is a black & white film. For those photographers in the UK, try Nick & Trick photographic services. If you want to use a particular type of film which is not available commercially, then you can cut your own 127 film from any 120 film. See my page on 'How to cut 127 film from 120 film'.
Modern film is sensitive to red light so you should cover the red window with black tape and only remove it to wind on film in low light.
At shutter speed of 1/30s it is important to hold the camera firmly against your head or brace it against a wall or post.
There is a guide to shutter speeds and aperture setting on the back but this is of little use because it refers to out of date films.
The table below shows how this camera will perform using ISO 100 film. It is based on the 'Sunny 16' rule. Modern film is so forgiving and will produce acceptable results even when overexposed by 2 or 3 stops or underexposed by 1 stop.
The tables assume that the sun is at least 30 degrees above the horizon - that's 10am - 5pm on a summers day in the UK.
So, on a summers day, it's simplicity itself. Just load film, follow the guide below, and snap away.
Using ISO 100/125 film - shutter speed 1/100s
Weather Conditions
Shadow Detail
Aperture
Exposure
Sunny
Snow/Sand
Dark
with sharp edges
f/16
+1 Stop
Overexposed


Acceptable

Sunny
Distinct
f/16

Good

Slight Overcast
Soft around edges
f/11

Good

Overcast
Barely visible
f/11
-1 Stop
Underexposed


Acceptable

Heavy Overcast
None
f/11
-2 Stops
Underexposed


Not Acceptable

Open Shade
/Sunset
None
f/11
-3 Stops
Underexposed


Not Acceptable
Using ISO 100/125 film - shutter speed 1/30s
Weather Conditions
Shadow Detail
Aperture
Exposure
Sunny
Snow/Sand
Dark
with sharp edges
f/16
+3 Stop
Overexposed


Not Acceptable

Sunny
Distinct
f/16
+2 Stop
Overexposed


Acceptable

Slight Overcast
Soft around edges
f/16
+1 Stop
Overexposed


Acceptable

Overcast
Barely visible
f/16

Good

Heavy Overcast
None
f/11

Good

Open Shade
/Sunset
None
f/11
-1 Stop
Underexposed


Acceptable